About Us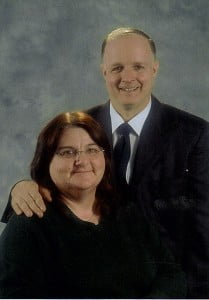 John and Bette Stevens grew up knowing the Lord. Bette starting out as Roman Catholic, and knew nothing about the Holy Spirit. John on the other hand knew about the Holy Spirit; but got busy with other things and lost sight of his personal relationship with the Lord Jesus Christ.
It was not until John and Bette met and got married that they KNEW that they urgently needed to return to there First Love- Jesus Christ! From there is when everything began to come back into focus. God bless them with four children, all whom are now grown. God has continued to pour out His blessings upon them with thirteen grand children.
They were in a local Church for almost twenty-five years; and the Lord called them away from that local Church as HE sifted, purified, and transformed us into the greater image of Jesus Christ!
God has called them into ministry and on Sunday, February 21, 2010 they were ordained as Ministers of the Gospel of Jesus Christ through there Overseer, Brother Patrick Kirk of Kingdom Encouragers Ministries International.
God has birthed a Church in our midst for His Glory! Bette Stevens have been healed of cancer, not just once but twice by the Hand of the Lord. God has imparted a heart for Israel and the LOST! God has made us his Under-Shepherds who are the caretakers and anointed to teach and to impart sound Kingdom Foundational Principles and the whole counsel and the Kingdom oracles of the Gospel of Jesus Christ.
God has also given Bette a Prophetic Vision for which the Lord has commissioned her to write a book, titled: "REDEEMED FROM HELL", which has been written as God's Endtime Plea and Warning to His Remnant and Kingdom People. Get your copy here.